Abonnement A New Wave of Jazz Festival
abonnement
Saturday 31 August 2019
20:30
This program is a subscription, you will receive tickets for every program attached to it, but not for the program itself.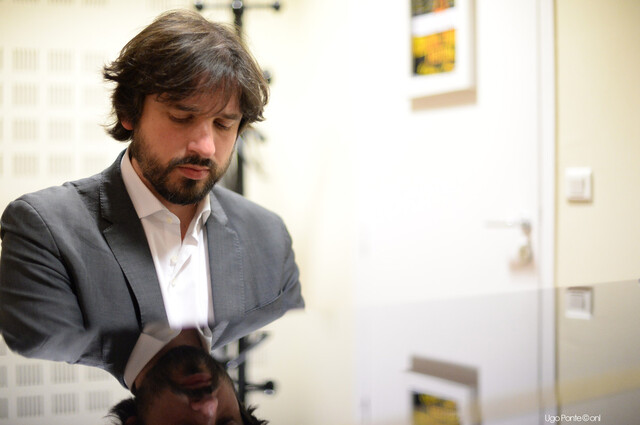 Program already took place.

Venue info
Sitting audience Type of audience
19:30 Doors open from
Prices
€ 20,00 Presale price
€ 14,00 Presale price students *
31/08/2019 19:30 Presale ends at
€ 20,00 Entrance price
€ 14,00 Entrance price students *
Share on facebook
Tot 31 augustus kan u een abonnement kopen voor het tweedaagse A New Wave of Jazz Festival. U betaalt dan slechts 20 euro voor de twee dagen. Bovendien krijgt u de 'A New Wave of Jazz' draagtas cadeau.

18 oktober 2019
Tom Malmendier, Dirk Serries & Tom Jackson
Benedict Taylor & Anton Mobin
Dante Boon
Tonus

19 oktober 2019
Daniel Thompson & Colin Webster
Asmus Tietchens
Antoine Beuger
Martina Verhoeven & Kris Vanderstraeten

A NEW WAVE OF JAZZ fungeert als een bibliotheek in zowel vormgeving als de keuze van muziek en slaagt een brug slaan tussen de vrije improvisatie, komend uit de free jazz strekking, en de minimale hedendaagse akoestische muziek. Niet alleen dragen zij beiden de vrijheid, het respect en het creatief vermogen van elke muzikant tot het groter geheel hoog in het vaandel maar zijn het ook genres die vooral in een live omgeving zich voortdurend kunnen ontwikkelen en dat er zo nieuwe kruisbestuivingen ontstaan. Deze live 'research' is een heel belangrijk element in de opbouw van het label. Het tweedaags festival is dan ook een bloemlezing uit wat reeds bestaat en wordt verwacht op het label alsook is het een symposium voor de performers en componisten om elkaar te leren kennen en voor de avontuurlijke luisteraar om zich te verdiepen in het gevarieerd aanbod van elke avond.