David Galle
Try-out 'Komt'
Thursday 26 September 2019
20:30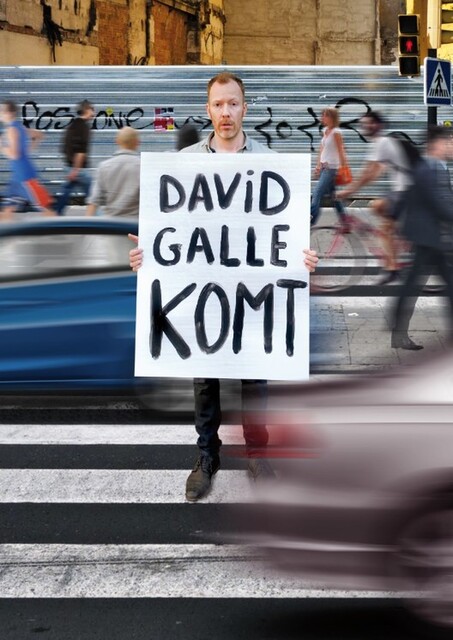 Program already took place.
Venue info
Sitting audience Type of audience
19:30 Doors open from
Prices
€ 13,00 Presale price
€ 8,00 Presale price students *
26/09/2019 18:00 Presale ends at
€ 15,00 Entrance price
€ 10,00 Entrance price students *
Share on facebook
David Galle - try-out 'Komt'
In de tijden waarin iedereen zich een virtuele identiteit kan aanmeten gaat David Galle tegen de stroom in. Hij is niet op tv of online. Hij komt. In het echt.
Op zoek naar de klik zonder muis. Naar het contact zonder stopcontact, een band zonder breedband. Analoog, echt en recht voor uw neus. Je kunt hem aanraken.
Geen gemanipuleerd verhaal vol zelfvertrouwen met alleen maar gefilterde momenten waar zijn schoonste kant goed uit komt.
Neen, dit is het verhaal van een mondige twijfelaar. Dat zie je niet veel meer.
Kom af, want David Galle komt!
David Galle
David Galle (°1980) is ondertussen 15 jaar actief als standup-comedian en won in 2009 de felbegeerde Comedy Casino Cup op Canvas. Daarnaast was hij onder andere te zien in de zondagavondprogramma's 'De Kazakkendraaiers' en 'Twee tot de Zesde Macht' (één), en acteerde hij in het sketchprogramma 'Echt niet oké' (één) en de successerie 'Bevergem' (Canvas).
Voorprogramma: Elias Van Dingenen en Stijn Verdegem
Comedy-abonnement najaar 2019
De voorstelling van David Galle is opgenomen in het comedy-abonnement van het najaar van 2019. Het abonnement bestaat uit volgende voorstellingen:
Het comedy-abonnement is te koop vanaf 10 juni (20 uur) tot en met 31 augustus (20 uur). Als er na 31 augustus nog tickets over zijn dan worden deze verkocht aan 13 euro per voorstelling (studenten: 8 euro).
Alle voorstellingen starten om 20.30 uur.
Media