SONS
Try-out 'Sweet Boy Tour'
Friday 8 April 2022
20:30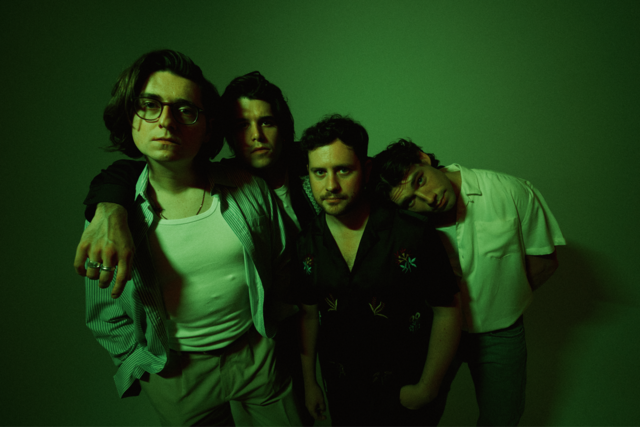 Program already took place.
Venue info
Standing audience Type of audience
19:30 Doors open from
Prices
€ 20,00 Presale price
€ 18,00 Presale price students *
08/04/2022 16:00 Presale ends at
€ 20,00 Entrance price
€ 18,00 Entrance price students *
Share on facebook
Try-out SONS
Vier vettige en grofgebekte jongens uit Melsele die smijten met fuzzy gitaren, luide bassen en keiharde drums, en gekroond werden tot De Nieuwe Lichting 2018. SONS klinkt scheurend, kijvend, jammend, als typische psychedelische garagepunk met een stevige kwak Sabbath eroverheen.
SONS neemt bij aanvang een indrukwekkende start: eerste single 'Ricochet' prijkt meteen twee weken op de eerste plaats van De Afrekening. Amper drie maanden later komt een volgende jongensdroom uit: het hoofdpodium van Rock Werchter. Nog voor ze hun eerste album 'Family Dinner' hebben uitgebracht. Daarna scoren ze hoge toppen met de andere singles uit dit debuutalbum, denk maar aan energieke singles 'Waiting On My Own', 'I Need A Gun', 'Naughty' of 'Tube Spit'.
Ondertussen hebben de heren uit Melsele al aardig wat kilometers gemaakt. Dit jaar brengen ze hun tweede album 'Sweet Boy' uit, een - naar eigen zeggen - 'coming of age'-plaat. Een evenwichtsoefening van een band waarvan de leden de rock-'n-roll-chaos nu moeten rijmen met ouder worden. Maar uiteraard nog steeds met dezelfde tomeloze inzet en dadendrang! De eerste single 'Nothing' is alvast een kopstoot van jewelste!
SONS, in hoofdletters, en zo hoort het!
Start optreden: 20.30 uur
Media