Bas Birker
40 jaar 40 Dagen 40 Shows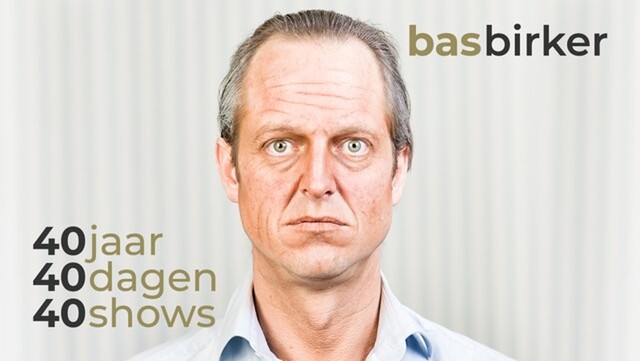 The last tickets! 9 tickets left!
Venue info
Sitting audience Type of audience
19:30 Doors open from
Prices
€ 12,00 Presale price
€ 8,00 Presale price students *
07/06/2019 18:00 Presale ends at
€ 14,00 Entrance price
€ 10,00 Entrance price students *
Share on facebook
Bas Birker: 40 Jaar 40 Dagen 40 Shows
In juni waagt de Belgisch-Nederlandse comedian Bas Birker zich aan een experiment: hij gaat in 40 dagen een gloednieuwe show schrijven én die tegelijk ook 40 dagen na elkaar spelen. Van leeg blad tot première. Die première is niet toevallig op 11 juni, de dag dat Bas 40 jaar wordt. En dat zal ineens ook de dernière zijn. Eén keer dus en dan nooit meer. Eén van de laatste shows in de reeks van 40 is deze in de Singer op vrijdag 7 juni!
Concreet:
Op dag 1, dus 1 mei, gaat Bas try-outen, geïnspireerd op wat er die dag is gebeurd. Dag na dag vult hij zijn show aan met nieuw materiaal, niets is voorbereid. Elke dag schaaft hij zijn materiaal bij voor een volgend optreden, en nieuwe ideeën komen erbij om uit te proberen. Zo gaat het dan 40 dagen lang: uitwerken, weggooien, vervangen en bijschaven. Daarna is zijn show klaar en gaat Bas Birker in première in de Bourlaschouwburg. Hallelujah!
Wie is Bas Birker?
Als 'Bassie' iets in zijn hoofd haalt, doét hij het ook gewoon. Zo trad hij twee jaar geleden op in het Sportpaleis, voor 200 man in een theaterbox op het middenplein. Gewoon, omdat het kon. Het volgende plan dat hij realiseerde: Belg worden. Klinkt doodnormaal, maar als je 'Je Moeder' hebt gezien, weet je dat dit een hele queeste was. En nu nadert dus de befaamde kaap van 40 jaar. Een symbolisch getal: Mozes trok 40 jaar door de woestijn, de vasten tussen carnaval en Pasen tellen 40 dagen en 40 is ook de leeftijd waarop mensen je beginnen waarschuwen voor een midlifecrisis.
Voorprogramma: Amelie Aelbrecht (winnaar Humo's Comedy Cup 2018)