Claptonite
a tribute to Eric Clapton
This program was scheduled on Friday 11 February 2022, but has been rescheduled to date above.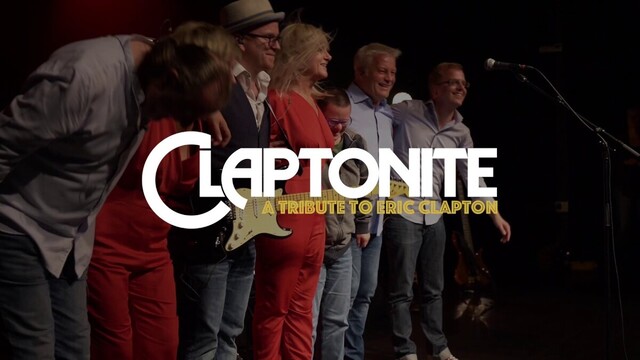 Program already took place.
Venue info
Sitting audience Type of audience
19:30 Doors open from
Prices
€ 13,00 Presale price
€ 13,00 Presale price students *
Share on facebook
Het optreden van Claptonite is uitgesteld naar vrijdag 6 mei 2022. Tickethouders zijn verwittigd via e-mail.
Claptonite - a tribute to Eric Clapton
Clapton heeft geen introductie nodig...
Layla, I Shot the Sheriff, White Room, Tears in Heaven, Wonderful Tonight, en Cocaine zijn maar enkele van de hits die ook Claptonite zal brengen.
​Claptonite is de enige Belgische Eric Clapton tributeband, een uniek gegeven binnen de Belgische muziekscène!
Claptonite wil zo dicht mogelijk tegen het origineel blijven, maar het gevoel moet wel juist zitten. We spelen de muziek met veel eerbied aan de meester, maar Clapton staat uiteraard niet zelf op het podium. We zijn niet het origineel, maar wel 'the next best thing'.
De stem en het gitaarspel van Wesley Meynendonckx zijn bijna een kopie van die van Eric. Zet de topmuzikanten erbij die hem begeleiden en je zoektocht naar een fantastische tributeband is afgelopen.
Laat jezelf overtuigen door een intense Clapton ervaring die puur en doorleefd is.
Artists:
Véronique Laeveren - Backing vocals
Steven Mintjens - Keyboard
Wesley Meynendonckx - Zang en gitaar
Marc Stoffelen - Basgitaar
Sam Versmissen - Drums
Lea Van den Broeck - Backing vocals
Media