Christophe Vandegoor
Try-out 'Radio Koers'
Thursday 4 October 2018
20:30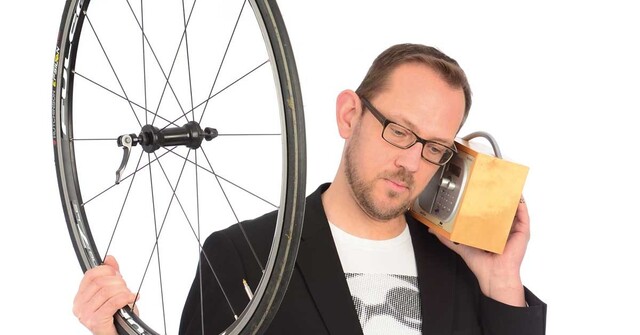 Program already took place.
Venue info
Sitting audience Type of audience
19:30 Doors open from
Prices
€ 10,00 Presale price
€ 8,00 Presale price students *
Share on facebook
Try-out 'Radio Koers'
In Radio Koers vertrekt sportjournalist Christophe Vandegoor vanuit zijn tienerjaren en een kortstondig bestaan als een bescheiden jeugdwielrenner. Braken door diep te gaan, ijlend. De blijvende herinnering aan die ene overwinning. Helaas verzeilt het talent in een tweede waaier.
Met een microfoon in de hand lukt het iets beter om aan de kop van het peloton te sleuren.
Live vanop een Alpentop in de Ronde van Frankrijk of vanuit de legendarische wielerbaan van Roubaix.
Sluit de ogen en luister.
In deze voorstelling vol wielerverhalen en muziek sleurt Vandegoor je live mee in een massasprint, op zoek naar kippenvel: van de Amsterdamse humor van Gerrie Knetemann, de aura boven het hoofd van Frank Vandenbroucke, het instinct van de sprinters tot de bakkebaarden van Bradley Wiggins. Sir Wiggins houdt van The Jam? 'That's Entertainment'! En geef toe, iedereen krijgt graag een schouderklopje, zeker wielrenners: 'I wanna be adored' van The Stone Roses! Wie weet passeert André Hazes wel de revue…misschien onuitgegeven maar wel als een passende soundtrack bij Radio Koers.
Oh ja, diep vanbinnen droomt hij nog steeds van een carrière als drummer, gitarist of bassist bij Foo Fighters. Helaas zal dat er niet meer van komen. Wat niet wegneemt dat hij steeds op zoek blijft gaan naar een moment van ontroering, zowel in de sport als in de muziek.
Radio Koers is een ode aan de radio en de verbeelding!