André Brasseur & Band
Belpop Bonanza presenteert: André Brasseur & Band
Friday 4 January 2019
20:30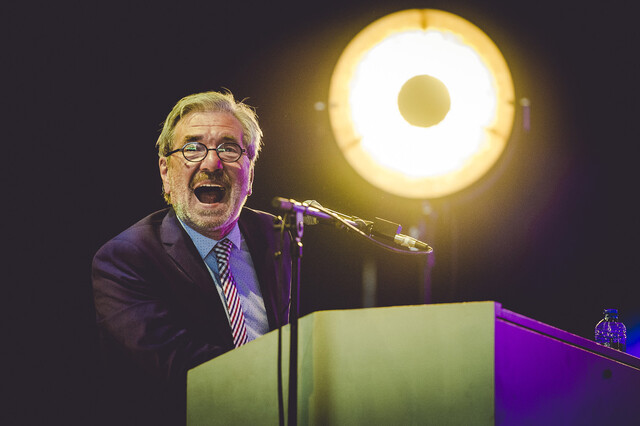 Program already took place.
Venue info
Standing audience Type of audience
19:30 Doors open from
Prices
€ 20,00 Presale price
€ 14,00 Presale price students *
04/01/2019 18:00 Presale ends at
€ 22,00 Entrance price
€ 16,00 Entrance price students *
Share on facebook
Belpop Bonanza presenteert: André Brasseur & Band
De comeback van André Brasseur is een van de mooiste muziekverhalen van de jongste jaren. De koning van het Hammondorgel keert na veertig jaar in de vergetelheid terug met een jonge en straffe begeleidingsgroep. Hij pakt Pukkelpop in en stapelt de uitverkochte zalen en de onderscheidingen op elkaar. En het beste moet nog komen voor de 79 jaar oude virtuoos. Brasseur brengt stomend spelplezier waar geen mens stil kan bij blijven zitten!
Voor het concert vertelt Belpopkenner Jan Delvaux het fascinerende levensverhaal van André Brasseur.
André Brasseur
André Brasseur is een absolute topper. De hammondvirtuoos heeft met 'Early Bird' een wereldhit op zijn naam staan. Hij was de chouchou van James Brown en Claude François. En hij speelde mee op de grootste successen van Vaya Con Dios.
Het oeuvre van Brasseur heeft na een halve eeuw nauwelijks aan kracht ingeboet. Dat was ook de reden waarom Jan Delvaux en Jimmy Dewit (a.k.a. DJ Bobby Ewing), bekend van Belpop Bonanza, hem in het voorjaar van 2015 benaderden met de vraag of hij al die classics nog eens zou willen spelen met een straffe begeleidingsgroep.
In maart 2016 wordt de nieuwe Brasseur voorgesteld tijdens Leuven Jazz. Aan zijn zijde: Dirk Jans (drums), Ben Van Camp (gitaar) en Ben Brunin (bas), Jo Hermans (trompet) en Wietse Meys (sax). Jans is de drummer van De Mens, de Bennen zaten ook bij Isolde et Les Bens en de blazers hoor je overal waar kwaliteit wordt verwacht.
De 79-jarige virtuoos pakte vervolgens Pukkelpop in en stapelde de uitverkochte zalen en de onderscheidingen op. In 2016 vroeg Studio Brussel André een cover van Universal Nation van Push te spelen. Ook in Wallonië wordt André Brasseur gelauwerd. Hij kreeg een Prix d'Honneur en een nominatie voor 'beste liveconcert' tijdens de D6Bels Awards, de Waalse tegenhanger van de MIA's.