Flat Earth Society
15-koppige muzikale bende
Saturday 30 September 2023
20:30

Program already took place.
Program sponsors: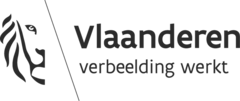 Venue info
Sitting audience Type of audience
19:30 Doors open from
Prices
€ 21,00 Presale price
€ 16,00 Presale price students *
30/09/2023 18:00 Presale ends at
€ 23,00 Entrance price
€ 18,00 Entrance price students *
Share on facebook
Flat Earth Society Orchestra bewandelt de grens tussen veelkleurig surrealisme en praktische gewiekstheid met een Belgische eigenzinnigheid die even logisch als onweerstaanbaar is.

De 15-koppige bende werkt met bladmuziek en strakke arrangementen, maar net zo goed met alarmerende hoeveelheden speelruimte en onvoorspelbaarheid. Ze switchen daarbij moeiteloos van stijlen en temperamenten. Niet enkel omdat ze dat kunnen, maar omdat sommige mogelijkheden nu eenmaal niet genegeerd kunnen worden. De generositeit van Flat Earth Society is op maat van zij die op zoek zijn naar een XL-shot adrenaline of hun met trots uitgedragen onbetrouwbaarheid.

De composities en arrangementen zijn steevast verankerd in 20ste-eeuwse tradities – van diverse jazzvertakkingen naar rock, exotica en hedendaagse muziek – maar ze vertrekken vanuit een resoluut 21ste-eeuwse spirit, werkend aan een oeuvre dat even groot en gelaagd als herkenbaar is. Flat Earth Society is dat zeldzame beest: een intelligent, moeiteloos excentriek orkest dat steeds opnieuw z'n huid afwerpt en vooral live steeds opnieuw piekt.