Paris Texas
beeldende Americana, warme harmonieën en vingervlug solowerk
Saturday 27 March 2021
20:30
This program was scheduled on Friday 15 May 2020, but has been rescheduled to date above.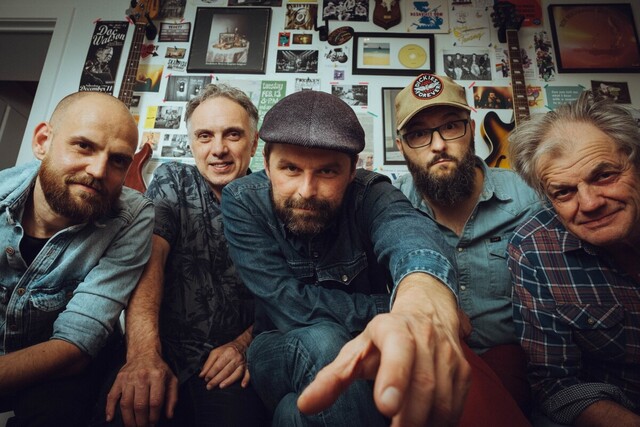 No tickets available anymore
Venue info
Sitting audience Type of audience
19:30 Doors open from
Prices
€ 10,00 Presale price
€ 7,00 Presale price students *
Share on facebook
Paris Texas
Paris Texas is een 5-koppige band rond songschrijvers Gerrit Hüppertz en Dave Crokaerts. De vele roadtrips door het Zuiden van de USA zijn de inspiratiebron voor hun nummers. De muziek is doorspekt met al het lekkers dat de Amerikaanse bodem te bieden heeft: van americana over traditionele bluegrass tot countrymuziek. Steeds met oog voor herkenbaarheid en melodie.
Live worden ze bijgestaan door Maarten Michielsen (You Raskal You), Jan Michielsen (Four Wheel Drive, Blue Maxx) en Dirk Peeraer (Rawhide), doorgewinterde muzikanten die hun sporen eerder verdienden in de akoestische muziek. Met een steady groove, hot picking en verfijnde samenzang probeert de band de songs naar een hoger niveau te tillen.
Eind 2019 bracht bracht Paris Texas hun debuutplaat 'When You're Gone' uit, onder het goedkeurend oog van producer Pascal Deweze (Sukilove, Broken Glass Heroes). Het album telt 13 akoestische songs, met het thema verlies als rode draad.
De band werkte reeds een mooie concertreeks af, met als hoogtepunt het driedaagse Omagh Bluegrass Festival in Noord-Ierland. Daar kon de band het Ierse publiek overtuigen met hun energieke liveset. Wij gaan er uiteraard vanuit dat het volgende hoogtepunt van Paris Texas op 27 maart in de Singer zal zijn!
Artists:
Gerrit Hüppertz - Zang en gitaar
Dave Crockaerts - Zang en gitaar
Maarten Michielsen - Zang en contrabas
Jan Michielsen - mandoline
Dirk Peeraer - Zang en dobro