Smooth Lee + Mitraille
Lokale Helden
Friday 26 April 2019
20:30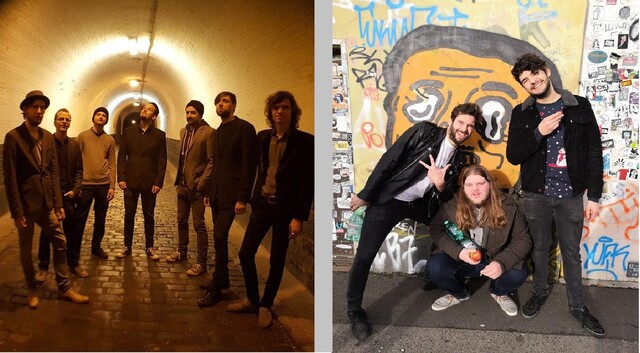 Free performance
Venue info
Standing audience Type of audience
19:30 Doors open from
Share on facebook
Lokale Helden 2019
de Singer trekt op vrijdag 26 april opnieuw resoluut de kaart van het lokaal talent. We zijn het dit jaar niet ver moeten gaan zoeken. 'Lokale Helden' van dienst zijn de ska/punk-trots Smooth Lee uit Rijkevorsel (en omstreken) en de garagerockers Mitraille uit Malle. Kuis uw oren alvast uit, want het gaat er stuiven in de Singer!
Smooth Lee
Hier en nu, hanteert Smooth Lee al maar dan 15 jaar hetzelfde eenduidig ethos: "Dance first, ask questions later!". Dit zevenkoppige ensemble uit Rijkevorsel en omstreken blinkt uit in een efficiënte mengeling van luide, smerige punk en broeierig opzwepende ska- en reggaeritmes. Dit alles doorweven met aanstekelijke melodieën en gebracht met een onstuitbaar enthousiasme. Met een reputatie als zeer energieke live-act, heeft Smooth Lee al een mooi palmares verzameld: zo stonden ze in het voorprogramma van de legendarische Specials en Ska-P, waren er succesvolle tours in Duitsland en stonden ze op de grootste ska- en punkfestivals in Europa.
Kort samengevat: Als er één ding is waar deze band garant voor staat, is het wel een luid, opzwepend, energiek, maar bovenal zeer genietbaar concert voor iedereen!
Facebookpagina Smooth Lee
YouTube: 'The Great Divide'
Mitraille
Mitraille's levensmotto is er eentje van Sleaford Mods held Jason Williamson: "Go listen to some fucking garage punk, you pointy little tit!" En dat vat meteen helemaal samen waar de band voor staat: vettige punk en vuile garage, gemaakt door de roadie van Equal Idiots en zijn maten die iets te veel naar Ty Segall's Slaughter House hebben geluisterd.
Begin 2018 brachten de mannen uit Malle 'Schroot' uit op Belly Button Records (o.a. King Dick en The Jagged Frequency). Het leverde meteen een optreden op in Trix, waar ze het voorprogramma mochten spelen van Sons.
Facebookpagina Mitraille
YouTube: 'Voices in my Head'
Mitraille @ Spotify