Thomas Smith
Try-out 'De jaren van verstand'
Thursday 25 October 2018
20:30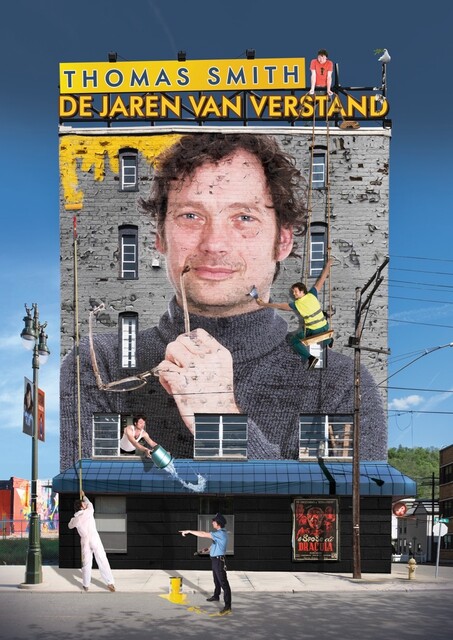 Program already took place.
Venue info
Sitting audience Type of audience
19:30 Doors open from
Prices
€ 13,00 Presale price
€ 8,00 Presale price students *
25/10/2018 18:00 Presale ends at
€ 15,00 Entrance price
€ 10,00 Entrance price students *
Share on facebook
Thomas Smith
Try-out 'De jaren van verstand'
Thomas' eerdere shows werden allemaal met vier- en zelfs vijf sterren recensies beoordeeld in de Vlaamse kranten. En niet verwonderlijk: het improvisatievermogen van Thomas kent geen grenzen. Zowel comedians als critici zijn het erover eens: Thomas kent zijn gelijke niet in het Nederlandse en Vlaamse circuit.
'De Jaren Van Verstand' hoe bereik je die, en heb je daar je verstand wel voor nodig?
Net als artikels in een roddelblad flitsen onze gedachten aan hoge snelheid voorbij,
Maar welke zou je best niet lezen en lees je daarom net wel?
Zullen we ooit met zijn allen de jaren van verstand kunnen bereiken of zullen onze hersenen, soms vriend, soms vijand, soms een totale onbekende, ons altijd in de weg staan?
Wie Thomas kent, mag een nog vrijere, rijpere, eerlijkere en vooral grappigere Thomas verwachten. Wie hem niet kent kan alleen maar die schade inhalen door nu wél te komen kijken.
De Jaren Van Verstand, zonder twijfel zijn meest recente show tot nu toe!
Comedy-abonnement najaar 2018
De try-out van Thomas Smith is opgenomen in het comedy-abonnement van het najaar van 2018. Het abonnement bestaat uit volgende optredens:
25/10 Thomas Smith - Try-out 'De jaren van verstand'
8/11 Henk Rijckaert - Try-out 'Maker'
20/12 Begijn Le Bleu - Try-out 'Toch bedankt!'
Media