Ralph Alessi & This Against That
met Ravi Coltrane, Andy Milne, Marc Ferber & Drew Gress
Thursday 24 May 2018
20:30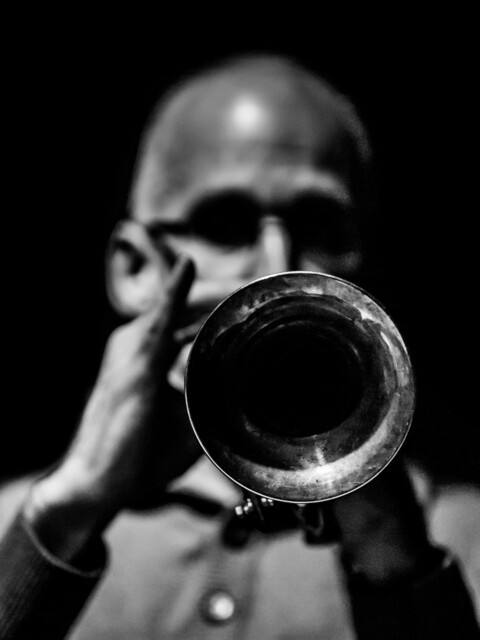 Program already took place.

Venue info
Sitting audience Type of audience
19:30 Doors open from
Prices
€ 18,00 Presale price
€ 12,00 Presale price students *
24/05/2018 18:30 Presale ends at
€ 20,00 Entrance price
€ 14,00 Entrance price students *
Share on facebook
met Ravi Coltrane, Andy Milne, Marc Ferber & Drew Gress
'Ralph Alessi heeft een wonderlijke trompettechniek.' Dit schrijft The New York Times in 2007 bij het verschijnen van 'Look', het tweede album van Alessi's groep This Against That. Ook dichter bij huis ontvangt hij lof. Zo noemt de Standaard hem 'een buitengewone trompettist' en 'één van de belangrijke hedendaagse jazzmusici'. In 2011 verschijnt de opvolger 'Wiry Strong' (Clean Feed Records).
Als bandleider maakt Alessi cd opnamen met opmerkelijke muzikanten waaronder Jason Moran, Ravi Coltrane, Don Byron en Nasheet Waits. Als sideman speelt hij mee op diverse albums van Uri Caine en Fred Hersch. Met die laatste maakte hij bovendien de duo cd 'Only Many'.
Ralph Alessi & This Against That is een ijzersterke New Yorkse jazzgroep met een al even indrukwekkende bezetting. 'Blue Note' saxofonist Ravi Coltrane, zoon van John Coltrane en Alice Coltrane, is een echte ster. In 2017 ontvangt hij een Grammy nominatie voor 'best improvised jazz solo'. Hij is te horen op cd's van o.m. Elvin Jones, McCoy Tyner en Terence Blanchard. Bassist Drew Gress, pianist Andy Milne en drummer Marc Ferber zijn veelgevraagde muzikanten in New York.
Artists:
Ralph Alessi - Trompet
Ravi Coltrane - Tenorsax
Andy Milne - Piano
Drew Gress - Contrabas
Mark Ferber - Drums