High Hi
Try-out 'Return to Dust'
Friday 22 April 2022
20:30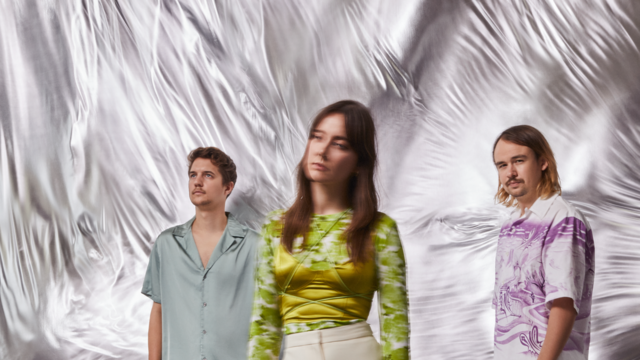 Program already took place.
Venue info
Standing audience Type of audience
19:30 Doors open from
Prices
€ 15,00 Presale price
€ 10,00 Presale price students *
22/04/2022 17:00 Presale ends at
€ 17,00 Entrance price
€ 12,00 Entrance price students *
Share on facebook
Try-out High Hi
Twee jaar na hun felbejubelde 'Firepool' (met daarop de instant pop-classic 'Daggers') en hun succesvolle doortocht op het Eurosonic Noorderslag showcasefestival vorig jaar steekt High Hi opnieuw de neus aan het muzikale venster. 'Return to Dust' en 'All Cool All Fine' zijn de eerste catchysingles uit het album 'Return To Dust', dat begin 2022 uitkomt.
Wie dacht dat corona High Hi zou veroordelen tot lethargie en inertie, think again. High Hi – nog steeds het vehikel van powertrio Anne-Sophie Ooghe (gitaar/zang), Dieter Beerten (drums/zang) en Koen Weverbergh (bas) – laveerde mooi door de pandemie heen, dook de studio in en gooide fluks tien tracks op band.
Voor de productie van het nieuwe album klopten ze net zoals voor 'Firepool' aan bij Daan Schepers, bekend van zijn werk voor Bazart, Warhola en Eefje de Visser, die 'Return to Dust' bedacht met een iets grootsere sound en een band laat horen op het top van zijn kunnen. Voor de mix zat dan weer Dr Tucan Taylor Michaels achter de knoppen, een powerhouse dat zich ook al liet inlijven door Gorillaz, Jungle en Hot Chip.
Sounds like? Genuine High Hi. Offspring van 80's indierock, 90's shoegaze, en opgevoed door de noughties. Songs, strak in het gareel gehouden door een funky feel, aangevuurd door een oorwurm-riffje die zich meteen in het hoofd nestelen. En met een bekende sound-signatuur: tweestemmig, ogenschijnlijk happy met een melancholische ondertoon, het auditieve equivalent van een aangename rilling over de rug.
Wil je deze wervelende sensatie live ervaren, kom dan zeker naar de try-out van High Hi in de Singer!