Rudeboy plays Urban Dance Squad
feat. DJ DNA
Friday 21 April 2023
20:30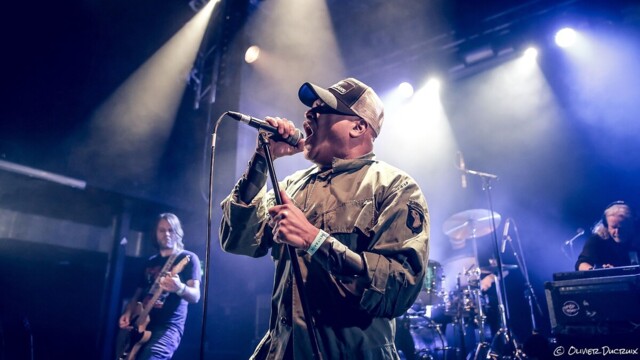 Program already took place.
Venue info
Standing audience Type of audience
19:30 Doors open from
Prices
€ 23,00 Presale price
€ 20,00 Presale price students *
Share on facebook
Rudeboy plays Urban Dance Squad ft. DJ DNA
Timing
19.30 uur: deuren open
20.30 uur: Common Goldfish
21.30 uur: Rudeboy plays UDS ft. DJ DNA
URBAN DANCE SQUAD. Volgens sommigen de beste band die Nederland ooit heeft voortgebracht, zonder enige twijfel is het de meest invloedrijke. De groep was één van de allereerste bands eind jaren '80 die een cross-over maakte van rock, funk, soul, punk in combinatie met hip hop. Nog nooit vertoond. Veel buitenlandse acts, waaronder Rage Against the Machine, lieten zich daarna inspireren door UDS. Hun debuut 'Mental Floss For The Globe' (uit 1989) is een überklassieker. Noem het zelfs gerust een standaardwerk uit de popmuziek!.
In 2021 besluit frontman Rudeboy het werk van Urban Dance Squad weer live uit te voeren. Hij verzamelt hiervoor een groep ervaren muzikanten en bovendien vraagt hij de originele Urban Dance Squad DJ DNA om ook aan te sluiten. Na succesvolle tournees in Belgie en Frankrijk (o.a. Hellfest) werden de eerste shows in Nederland (Vera, Tivoli en Effenaar) in no time uitverkocht. De band is inmiddels zo goed ingespeeld dat er net als in de geest van de originele Urban Dance Squad vrij wordt gespeeld en er een vergelijkbare energie wordt opgeroepen.
Verwacht je aan een explosieve set met nummers uit alle Urban Dance Squad-platen, de enorme energie van zanger/MC Rudeboy én de unieke mix van gitaar en hip hop. Klaar voor 'Deeper Shade Of Soul', 'No Kid', 'Demagogue', 'Good Grief' en 'Fast Lane'? Afspraak op 21 april in de Singer!
Voorprogramma: Common Goldfish (UK)
Common goldfish uit London neemt deze avond het voorprogramma voor zijn rekening. Verwacht je aan psychedelische retro indiepop met dezelfde vibe als The Stone Roses of Happy Mondays. Check hier de videoclip van 'Feel The Fuzz':