Kenny Garrett Quintet
saxofonist bij Miles Davis, Art Blakey, ...
Tuesday 17 October 2017
20:30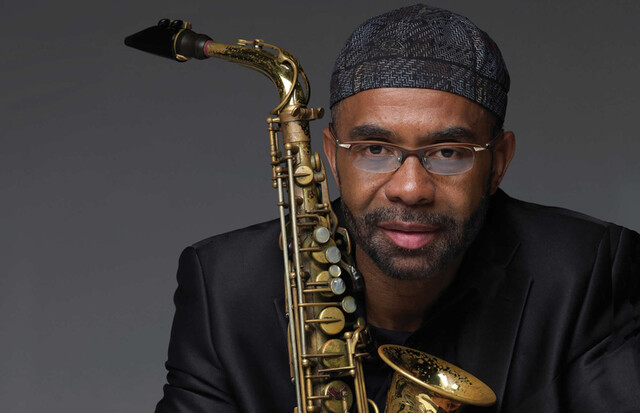 Program already took place.

Venue info
Sitting audience Type of audience
19:30 Doors open from
Prices
€ 22,00 Presale price
€ 14,00 Presale price students *
17/10/2017 17:30 Presale ends at
€ 25,00 Entrance price
€ 16,00 Entrance price students *
Share on facebook
Het Kenny Garrett Quintet is headliner op heel wat jazzfestivals. Toch speelt de groep op 17 oktober voor een select publiek in de Singer. Ook u kan hierbij zijn!
In de loop van zijn carrière, die inmiddels meer dan 30 jaar bestrijkt, is Kenny Garrett uitgegroeid tot één van de meest vooraanstaande altsaxofonisten van zijn generatie. Hij heeft een krachtige, melodieuze en herkenbare altsound, die hem karakteriseerde vanaf zijn eerste begin bij het Duke Ellington Orkest (geleid door Mercer Ellington). Maar ook in zijn samenwerking met Freddie Hubbard, Woody Shaw en Art Blakey & the Jazz Messengers onderscheidde de meester zich door middel van zijn spel.
Toch is Garrett het meest bekend van zijn vijf jaren met de elektrische band van Miles Davis in de jaren '80. Redelijk recent speelde hij in de supergroep 'Five Peace Band' met Chick Corea, John McLaughlin, Christian McBride en Vinnie Colaiuta. De laatste jaren bracht Kenny Garrett het ene na het andere succesvolle album uit. Zo ontving 'Beyond The World' een Grammy-nominatie als beste instrumentale album. Vorig jaar verscheen de cd 'Do your Dance!'.
Artists:
Corcoran Holt - Contrabas
Vernell Brown - Piano
Marcus Baylor - Drums
Rudy Bird - Percussie
Kenny Garrett - Altsax
Media