Chuck Prophet, Stephanie Finch & Jesse Malin
Triple bill
Friday 14 September 2018
20:30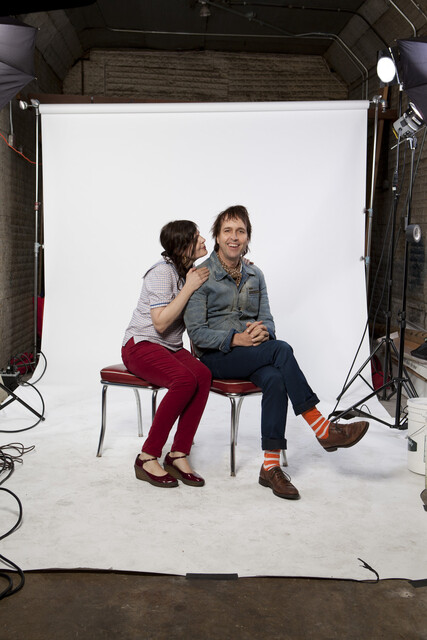 Program already took place.
Venue info
Sitting audience Type of audience
19:30 Doors open from
Prices
€ 14,00 Presale price
€ 8,00 Presale price students *
14/09/2018 18:00 Presale ends at
€ 16,00 Entrance price
€ 10,00 Entrance price students *
Share on facebook
Chuck Prophet, Stephanie Finch & Jesse Malin
De Amerikaanse gitaarheld Chuck Prophet, bekend van cultgroep Green On Red, komt dit najaar naar De Singer! In goed gezelschap, want hij brengt zijn echtgenote en tevens zangeres, toetsenist en gitariste Stephanie Finch mee, alsook de New Yorkse singer-songwriter Jesse Malin.
De ware muziekliefhebber wordt deze avond op zijn wenken bediend: voorprogramma Mooneye (solo) bijt de spits af, daarna spelen Chuck en Stephanie akoestische versies van elkaars nummers, waarna een volledige set van Jesse Malin met zijn toetsenis volgt!
Chuck Prophet trok begin jaren '80 voor het eerst de aandacht van het publiek met zijn psychedelische desert-rockband Green on Red, waarmee hij aan de wieg stond van de alternatieve country rock. Dankzij zijn virtuoze gitaarspel is hij ondertussen één van de meest gewilde sessiemuzikanten in het circuit. De singer-songwriter uit San Francisco beschrijft zijn muziek als 'California Noir'. Verwacht veel gitaren met een scherp randje. Die gitaarpartijen speelt hij zonder enige moeite en bijna achteloos met een die souplesse die veruit fascinerend is!
Jesse Malin gaat al bijna even lang mee. In New York City maakte hij deel uit van de hardcore band Heart Attack en richtte hij de invloedrijke punkband D Generation op. Daarna ging hij solo, met ondertussen reeds zeven opgenomen albums en spraakmakende samenwerkingen met o.a. Bruce Springsteen, Green Day en Ryan Adams. Deze laatste is een devote fan van Jesse en hij liet ooit ontvallen dat "Malin's nummers zo goed zijn, dat ze mijn gevoelens kwetsen'. Denk aan een combinatie van de roekeloze overgave van The Replacements met de gevoelige introspectie van Neil Young en dan kom je al een heel eind in de buurt van Jesse Malin.
Voorprogramma: Mooneye (solo)
Twee jaar intensief optreden als Mickey Doyle gaf hem de nodige ervaring en présence. Begin dit jaar achtte hij als 'Artist In Residence' van Wilde Westen/De Kreun (Kortrijk) de tijd rijp een versnelling hoger te schakelen: een full band, een nieuwe naam en een eerste EP!
Hiervoor kampeerde Michiel een week lang in de studio van Pascal Deweze (Warhaus, Metal Molly, Sukilove, Broken Glass Heroes). In Pascal vond hij de ideale mentor die als producer én muzikant duidelijk zijn stempel heeft gedrukt. Het resultaat: vijf kraakheldere songs met als kloppend hart de rijke arrangementen, heerlijke melodieën en Michiels schitterende stemgeluid
En die blijven niet in dovemansoren. 'Thinking About Leaving' vond vrijwel direct zijn weg naar de vermaarde Spotify-playlist 'Fresh Finds', Met debuutsingle 'This Thing' ging het nog harder: na passages bij 'Zender' (Stubru) en 'We Will Rock You' (Classic 21), nam Radio 1 eind april de song op in B-rotatie.
En ook in Nederland rolde het eerste balletje: de bekende radio-DJ Annemieke Schollaardt (3FM, Radio 2) verkoos half mei 'This Thing' als 'A-plaat van de week' waardoor de song drie dagen lang elke dag op NPO Radio 2 kwam.
Ook live gaat het Mooneye voor de wind: van de bijna 400 aanwezigen op hun gewéldige release-show in De Kreun: via gesmaakte supports van upcoming acts als Jawhar (La Petite Fabriek, Doornik) en Fenne Lily (Nest/Democrazy, Gent) gaat het naar opgemerkte passages - met band én solo - op o.a. Bos Festival, Cactus Festival, Gentse Feesten/Sint-Jacobs, Burgrock (Brugge) en Boomtown
Media