The Great Belgian Songbook
Releaseshow EP
Monday 1 November 2021
20:30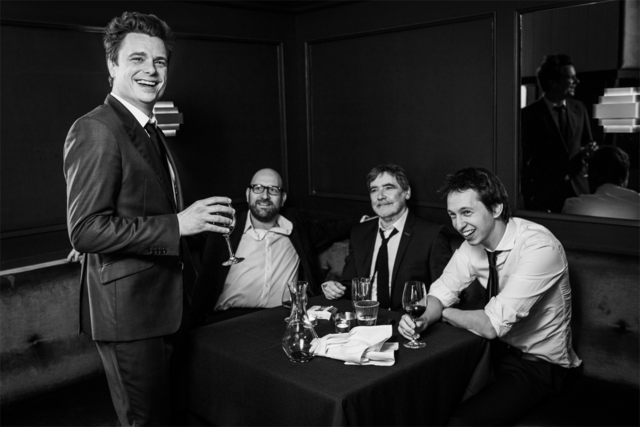 Venue info
Sitting audience Type of audience
19:30 Doors open from
Prices
€ 20,00 Presale price
€ 20,00 Presale price students *
01/11/2021 16:00 Presale ends at
€ 22,00 Entrance price
€ 22,00 Entrance price students *
Share on facebook
The Great Belgian Songbook - Releaseshow EP
Ook genoten van The Great Belgian Songbook in de WK-special van het tv-programma Vive Le Vélo? De mooiste nummers uit het nationale erfgoed. Op een verrassende manier omgebouwd door vier topmuzikanten. Gebracht met schwung, lef, enthousiasme en humor.
Jo Hermans was er de jongste jaren steeds bij als er geschiedenis geschreven werd op Pukkelpop. In 2016 speelt hij mee met Hammondkoning André Brasseur. In 2018 voert Hermans de Kempenzonen uit Tielen aan die Willy Sommers naar grote hoogten stuwen, maar met tal van andere bands (waaronder voornamelijk DAAN, maar ook Clouseau of Raymond) sierde hij alle grote Vlaamse podia reeds.
Jo, het brein achter The Great Belgian Songbook, maakte zijn eigen, Belgische variant op het Great American Songbook, de fameuze collectie van Amerikaanse standards uit de dagen voor de opkomst van rock-'n-roll.
Hij bezegelt een aantal Belpoptoppers als nationaal erfgoed, en doet dit met bekende en minder bekende nummers, jonge en oudere songs, maar elk met een verhaal en een bijzondere dynamiek. Zo krijgt 'La chanson des vieux amants' van Jacques Brel de funk van Quincy Jones, 'Martine' van Louis Neefs swingt enkele versnellingen hoger en 'Somebody that I used to know' van Gotye wordt hedendaags klassiek.
De band is op zijn minst bijzonder te noemen, met bugel/trompet, drums, toetsen en cello. Een kwartet, samengesteld uit een zestiger, een veertiger en twee dertigers.
Drums: Marc Bonne (60) mocht op zijn veertiende al op tournee met Alain Chamfort. De jonge wonderdrummer werd een instituut met een indrukwekkende erelijst.
Toetsen: David Thomaere (30) toptalent uit Schoten, kreeg de Toots Thielenans Award in 2013, bekend met zijn eigen David Thomaere Trio.
Cello: Jean-François Assy (42) speelde cello bij Alain Bashung, Yann Tiersen en DAAN.
Nog aan toevoegen: dé belpopkenner Jan Delvaux zorgt voor de toelichting die Jo Hermans tussen de nummers brengt.
Wat kan u verwachten? Een concert dat mensen laat (mee)zingen, dansen en lachen, met de trompet van Jo Hermans als wegwijzer.