Ideal Bread
The Music of Steve Lacy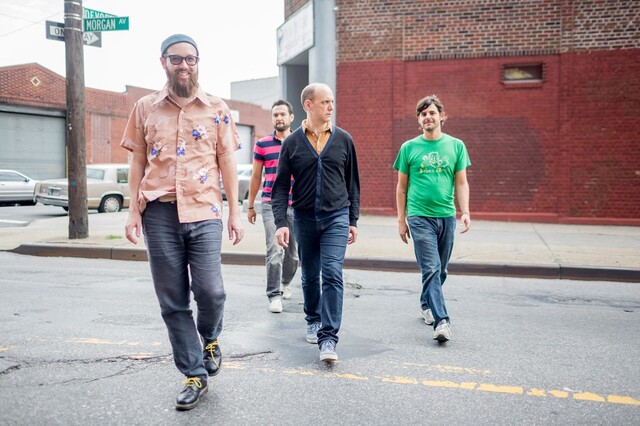 Program already took place.

Venue info
Sitting audience Type of audience
20:00 Doors open from
Prices
€ 12,00 Presale price
€ 6,00 Presale price students *
06/06/2014 18:00 Presale ends at
€ 14,00 Entrance price
€ 8,00 Entrance price students *
Share on facebook
Het New Yorkse kwartet Ideal Bread brengt eigenzinnige bewerkingen van de muziek van componist-sopraansaxofonist Steve Lacy (°1934 – 2004). Tot hiertoe brachten ze twee albums uit: een titelloos debuutalbum in 2008 en 'Transmit' in 2010. Binnenkort komt hierop een vervolg met 'Beating The Teens', een dubbel-cd waarop het kwartet composities van Lacy uit de jaren '70 onder handen neemt. Deze periode was trouwens zijn meest experimentele en is gedocumenteerd in de driedelige cd-box 'Scratching The Seventies'. In navolging van kunstenaar Marcel Duchamp kan voor de componist alles aanleiding zijn tot een muziekstuk: een flard tekst op een koekjesdoos, het gekraak van een oude jazzplaat van Ruby Braff, het weer, … Elke compositie is bovendien een hommage: The Wire aan Albert Ayler, Ladies aan Billie Holiday, The Uh Uh Uh aan Jimi Hendrix,… De leden van Ideal Bread zijn stuk voor stuk boeiende vertegenwoordigers van de New Yorkse jazzscène. De eerste, kornettist Kirk Knuffke, is actief in zowel de avontuurlijke als de meer traditionele jazz. Zo bracht hij bijvoorbeeld twee albums uit op het toonaangevende Portugese Clean Feed label. Maar als leider nam hij ook diverse cd's op voor het label SteepleChase, met o.m. drumlegende Billy Hart en de Lennie Tristano-getrouwe saxofonist Ted Brown. De tweede, Tomas Fujiwara, is een veel gevraagde drummer die regelmatig samenspeelt met Mary Halvorson, Taylor Ho Bynum en Anthony Braxton. Het derde groepslid is bassist Adam Hopkins. Hij leidt een eigen trio en sextet. Baritonsaxofonist en groepsleider Josh Sinton, ten slotte, is vast lid van o.m. Darcy James Argue 's Secret Society en het Nate Wooley Quintet.
Artists:
Kirk Knuffke - Kornet
Josh Sinton - Baritonsax
Dave King - Contrabas
Tomas Fujiwara - Drums