Rodrigo Amado Motion Trio / CO2
powertrio uit Lissabon
Friday 2 October 2015
20:30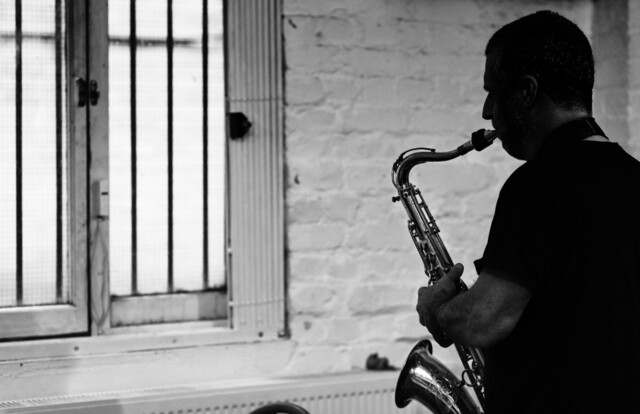 Program already took place.

Venue info
Sitting audience Type of audience
20:00 Doors open from
Prices
€ 14,00 Presale price
€ 7,00 Presale price students *
02/10/2015 18:00 Presale ends at
€ 16,00 Entrance price
€ 9,00 Entrance price students *
Share on facebook
RODRIGO AMADO MOTION TRIO "2015 wordt het jaar van Amado & co. Zeker weten", zo besluit Guy Peters (Enola, Cobra, Jazzmozaïek) zijn verslag van een tweedaagse van het Motion Trio in Lissabon. Eerder speelde het trio, met de Portugese saxofonist Rodrigo Amado, cellist Miguel Mira en drummer Gabriel Ferrandini, reeds een verschroeiend concert op het Konfrontationen Festival. Dat was reden te meer voor Guy om naar de thuisbasis van het trio te trekken. Met succes trouwens, want het Motion Trio loste de hooggespannen verwachtingen moeiteloos in. En ook wij zijn helemaal weg van de albums van het trio – waarvan sommige met speciale gasten als trompettist Peter Evans of trombonist Jeb Bishop. Wie deze cd's beluistert, hoort duidelijk dat Rodrigo Amado de mosterd haalde bij de trio's van tenorgiganten als Sonny Rollins en Sam Rivers. Maar Amado is nog net een beetje radicaler dan zijn voorgangers. Wie het live wil meemaken, kan dat op 2 oktober. Voor het eerst in België! CEL OVERBERGHE & TOM VAN OVERBERGHE 'CO2' De 78-jarige Antwerpse schilder en tenorsaxofonist Cel Overberghe is een pionier van de Belgische free jazz. In de jaren '60 begint hij te spelen met o.m. Jack Van Poll en Paul Van Gijsegem. Samen met zijn schoonbroer Fred Van Hove weigert hij in 1972 op te treden op Jazz Middelheim wegens de subsidiediscriminatie van Belgische jazzmusici tegenover de (dure) Amerikaanse publiekstrekkers. Tal van andere improviserende musici steunen hun protest en de 'Werkgroep Improviserende Musici' is geboren. Beluister uit die periode de 'Complete Vogel Recordings'. Deze cd verscheen op het Amerikaanse Atavistic/Unheard Music Series en wordt algemeen beschouwd als een klassieker van de Europese improvisatiemuziek. Recenter werk is de cd 'Intersections' (El Negocito, 2012) van CO2, het project dat hij leidt samen met zijn zoon Tom die gitarist is. Meer dan een afspraak met de Belgische jazzgeschiedenis belooft het vooral een energiek en spannend concert te worden. Cel Overberghe speelt immers nog steeds met de gretigheid van een twintiger!
Artists:
Rodrigo Amado - Tenorsax
Miguel Mira - Cello
Gabriel Ferrandini - Drums
Cel Overberghe - Tenorsax
Tom Van Overberghe - Gitaar