Anthony Braxton Trio
Diamond Curtain Wall Music
Tuesday 27 January 2015
20:30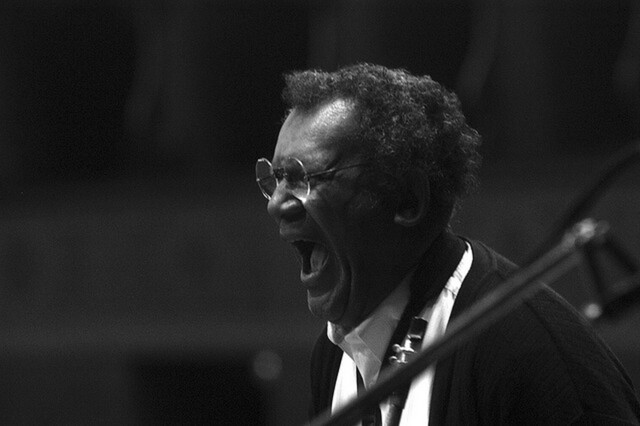 Program already took place.

Venue info
Sitting audience Type of audience
20:00 Doors open from
Prices
€ 40,00 Presale price
€ 40,00 Presale price students *
27/01/2015 18:00 Presale ends at
€ 50,00 Entrance price
€ 50,00 Entrance price students *
Share on facebook
Saxofoonvirtuoos, multi-instrumentalist en componist Anthony Braxton (°Chicago, 1945) nam begin dit jaar de NEA (National Endowment for the Arts) Jazz Master Award in ontvangst. Dit is de hoogste eer die een jazzmuzikant te beurt kan vallen in de Verenigde Staten. Hiermee behoort hij nu ook officieel tot de jazzgroten. Eerder ontving hij immers reeds de felbegeerde MacArthur Fellowshipprijs. Deze zgn. 'Genius Grant' wordt jaarlijks uitgereikt aan wetenschappers, schrijvers, kunstenaars, … die tot de belangrijkste vernieuwers binnen hun vakgebied behoren. Anthony Braxton is dan ook één van de meest revolutionaire muzikanten sinds eind jaren '60. Vanaf het begin van zijn carrière combineert hij de freejazz van Ornette Coleman en Cecil Taylor met de Europese concertmuziek van o.m. Arnold Schönberg en Karlheinz Stockhausen. Dit was een ongebruikelijke keuze in de periode van de 'Great Black Music'. In 1969 neemt hij als eerste een volledig album op met solo-saxofoonimprovisaties. De dubbel LP 'For Alto' geldt tot op vandaag als een mijlpaal in de experimentele jazz. Later vormt hij inmiddels legendarische groepen met o.m. Dave Holland, Kenny Wheeler, Chick Corea en Marilyn Crispell. Verder componeert hij voor de meest uiteenlopende bezettingen: van opera's over composities voor vier orkesten (cf. het album 'For Four Orchestras') tot stukken voor honderd tuba's. De verbeeldingskracht en de volharding van Anthony Braxton lijken grenzeloos. Op 27 januari presenteert Anthony Braxton zijn Diamond Curtain Wall Music, waarbij hij improvisatie combineert met grafische notatie en computersoftware. Hiervoor brengt hij twee toonaangevende musici mee, nl. gitariste Mary Halvorson en kornettist Taylor Ho Bynum. Het concert is reeds enkele maanden uitverkocht. Wie een ticket heeft, staat een uniek clubconcert van Anthony Braxton te wachten!
Artists:
Anthony Braxton - Alt-,Sopraan- en sopraninosax,Elektronica
Taylor Ho Bynum - Kornet,Bugel,Piccolo- en bastrompet
Mary Halvorso - Gitaar