Freakscene's Summer Bummer
Locatie: Zuiderpershuis
Sunday 10 August 2014
17:00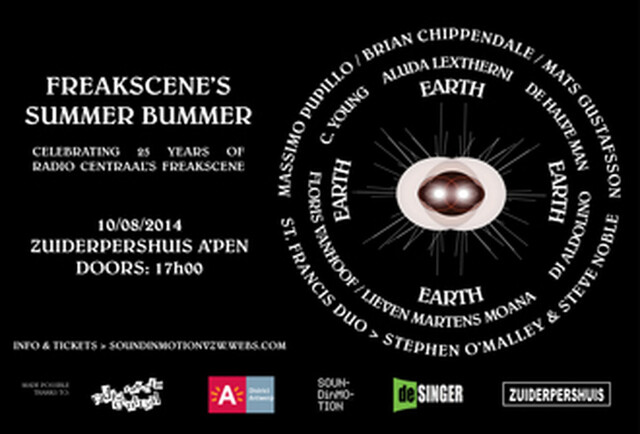 Program already took place.
Venue info
Sitting audience Type of audience
16:30 Doors open from
Prices
€ 16,00 Presale price
€ 16,00 Presale price students *
10/08/2014 12:00 Presale ends at
€ 20,00 Entrance price
€ 20,00 Entrance price students *
Share on facebook
EARTH MATS GUSTAFSSON/BRIAN CHIPPENDALE/MASSIMO PUPILLO TRIO ST. FRANCIS DUO > STEPHEN O'MALLEY & STEVE NOBLE ALUDA LEXTHERNI C.YOUNG FLORIS VANHOOF/LIEVEN MARTENS MOANA DUO DE HALVE MAN (BADENHORST/COOMANS/HEESTERMANS/HERMAN) DJ ALDOLINO FESTIVAL LOCATIE: Zuiderpershuis, Waalsekaai, 14, 2000 Antwerpen DEUREN: 17:00 Al 25 jaar houdt Radio Centraal's Freakscene de vinger aan de kloppende pols van de avontuurlijke muziek. Van freejazz en improvisatie, gitaarmuziek, freefolk, psychedelica, elektro-akoestisch en elektronisch experiment tot pop, noise, beats, spoken word, kraut- en outrock, alle stijlen en genres krijgen evenwaardige aandacht. Een perfecte aanleiding om feestelijk naar buiten te treden met een uniek festival. Met de invloedrijke dronerockers Earth - nieuwe release Primitive and Deadly voor Southern Lord is in de maak - het tot de verbeelding sprekende power improvtrio van Brian Chippendale (Lightning Bolt, Black Pus), Massimo Pupillo (Zu) en Mats Gustafsson (The Thing) en het sublieme St. Francis duo met Stephen O'Malley van SunnO))) en Steve Noble bekend van Aethenor, Brötzmann ... heeft Freakscene's Summer Bummer alvast enkele bijzondere en exclusieve kleppers te pakken. We voegen daarbij graag het unieke project De Halve Man aan toe, dat de jonge klankenstormers Joachim Badenhorst, Gino Coomans, Erik Heestermans en Gerhard Herman samenbrengt op een verrassende manier, en de voortgezette samenwerking van Radio Centraal pioniers, notoire platenverzamelaars en elektronicafreaks Daniël Renders, Luther Vanhoof en Alex De Winter als Aluda Lextherni. Het frisse en dansbare synthgeweld van Milan Warmoeskerken mag niet ontbreken. Milan is gekend van bands als Flying Horseman en Condor Gruppe, maar op Summer Bummer dus te gast als C.Young. Floris Vanhoof op zijn beurt rust niet voor iedereen op zijn minst een notie heeft van het wat, wie en hoe in de wereld van het elektronisch en elektro-akoestisch experiment, doet dat met verve en verrast keer op keer met bijzondere audiovisuele performances. Voor deze gelegenheid doet Vanhoof het met Lieven Martens Moana die zijn cetacean universum inmiddels wereldwijd laat resoneren en ons op deze zomerse dag vlotjes richting Kealakekua en de Azorenarchipel laat wegdromen. Om u tussentijds en na afloop auditief te blijven prikkelen en vanwege een Radio Centraal verleden dat zo ver reikt als Freakscene's 25 jaar, krijgt Aldo Struyf (Creatures With The Atom Brain, Mark Lanegan Band ... ) als dj Aldolino de vrije baan.